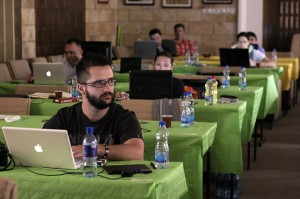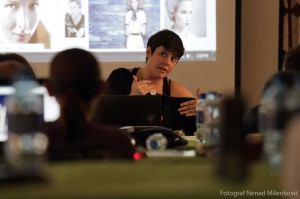 Posle velikog uspeha i odličnih kritika, ponovo se družimo sa Natalijom Tafarel. Čast nam je i zadovoljstvo da Vas pozovemo na radionicu High End tehnike retuširanja. Ovog puta ćete čuti o njenim novim saznanjima, novom pristupu i novim trikovima!
Sama radionica će biti fokusirana prvenstveno na retuširanju kože lica kod portreta i kose. Natalia će ukazati na radne procese i tehnike ključne u njenom High End pristupu estetici fotografija.
- CILJEVI RADIONICE
Natalija će kroz diskusiju ukazati na procese i tehnike na praktičnim primerima, uključujući i specifičnosti određenih problema. Ova radionica će Vam omogućiti da naučite da retuširate "beauty" portrete, i druge modne kategorije fotografija i da ih učinite prirodnim. Videćete na primerima kako obraditi kožu, dodati ili oduzeti šminku, uoštriti, posvetleti ili promeniti boju očiju, izbeleti ili ispraviti zube, oblikovati usne i nos ili naknadno prilagoditi svetlo da bi se dobio izgled "kao iz Magazina".
Posle završene radionice, bićete potpuno obučeni za procesiranje fotografija po High End tehnici.
- Radionica traje dva dana i to u sledećem rasporedu
1. Dan:
Važnost korišćenja nedestruktivnih metoda;
Manipulacija svetlom;
Tehnike i osnove estetskih rešenja;
Razumevanje ključnih koncepata i principa (sastav, boja, tekstura, svetlost…) i njihova primena pri retuširanju fotografija;
Primena psihologije u oglašavanju i dizajnu, odnosno njena primena u obradi i retuširanju fotografija.
2. Dan:
Praktična primena tehnika i principa stečenih prvog dana radionice;
Interaktivni čas i rad "jedan na jedan" sa Nataliom;
Pitanja i odgovori.
- ŠTA JE POTREBNO:
- Sopstveni računar (laptop)
- Grafička tabla (opciono)
- Photoshop CS5 ili CS6
- Osnovno poznavanje rada u Photoshop-u (rad sa slojevima, maskama slojeva, adjustment layer-i…)
Teme kojima ćemo se baviti na ovoj radionici će Vam pružiti izuzetno vredne tehnike i sposobnosti koje ćete moći da primenite u poslovime samog svetskog vrha modne industrije.
Tokom radionice ćete imati jedinstvenu priliku da primenite tehnike na svojim fotografijama pod nadzorom Natalie
Garantujemo da će svaki učesnik radionice napustiti učionicu sa svim potrebnim znanjem, a Natalia Taffarel će svakom potpisati sertifikat o pohadjanju radionice.
PRIJAVLJIVANJE ZA RADIONICU možete ostvariti na miljko@yahoo.com. Cena je 100 evra po učesniku za oba dana (u to nisu uključeni smeštaj i hrana). Broj mesta je ograničen. Sve informacije možete dobiti na isti mail.
Natalia Taffarell Info:
Blog http://nataliataffarel.tumblr.com/
FB Fan Site https://www.facebook.com/pages/Natalia-Taffarel/44933971106
Site: http://studiobased.com/