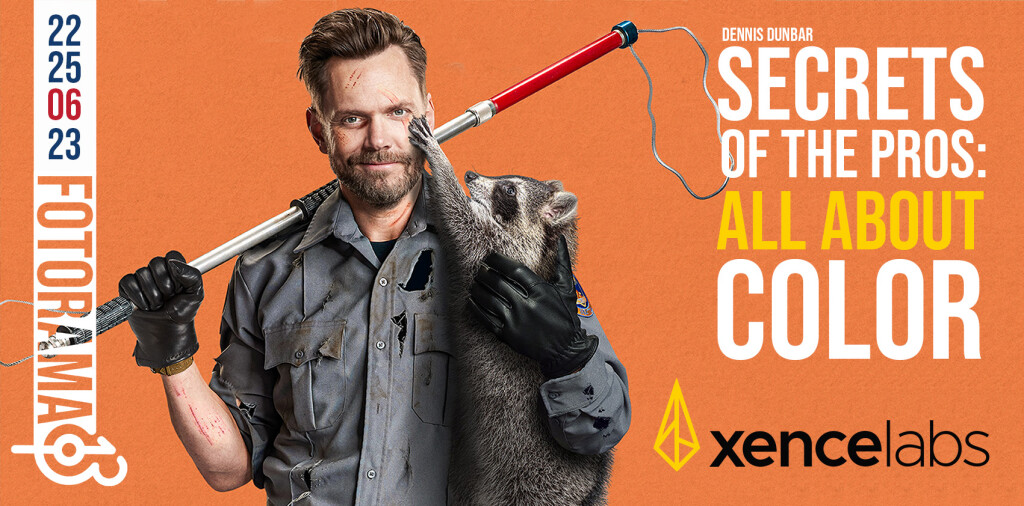 Nastavljamo jednu od najstarijih tradicija FOTORAMA festivala a to su najkvalitetnije radionice iz oblasti Beauty Retouch-a i Compositing-a. Ove godine sa polaznicima ovogodišnje radionice radiće po treći put, proslavljeni retušer i digitalni umetnik Hollywoodske A produkcije iz Los Anđelesa, gospodin DENNIS DUNBAR! Dennis je radio na nekim od najvećih blockbaster franšiza kao što su Harry Potter, X-Men, Iron Men, Transformers, I am Legend, Avatar -The last airbender, Spiderwick Chrocless, Shrek, Star Trek i mnogih drugih i dolazi sa namerom da prenese nova znanja i najmodernije tehnike koji trenutno vode jednu od najprogresivnijih produkcija na svetu.
PROGRAM RADIONICE:
DAN PRVI  
24. Jun 2023
Tajne profesionalaca retuširanja: Sve o boji!
___________________________________________
Čuveni fotograf Džej Mejsel je čuveno govorio o 3 elementa sjajne fotografije: svetlosti, gestu i boji. U ovoj radionici ćemo se fokusirati na mnoge načine na koje radimo sa bojom kao deo procesa postprodukcije. Počećemo tako što ćemo pogledati metode korekcije boja, kako da dobijete "prijatnu" boju na vašim slikama. Pokrićemo slojeve za podešavanje, Adobe-ov Camera Raw i Denisov omiljeni metod korekcije boje Divide & Conkuer. Zatim ćemo pogledati korišćenje korekcije boja u komponovanju, kako da dobijete slike iz različitih izvora da se neprimetno stapaju u jednu sliku. Uronimo u to kako da boja izgleda kao da svi elementi pripadaju istoj sceni. Na kraju ćemo razgovarati o ocenjivanju boja i o tome kako da sa namerom i predumišljajem razmišljate  u vezi sa bojama i tonovima na vašim slikama koristeći harmoniju boja da biste vašim slikama dali veći uticaj. Ponesite svoje laptopove i svoje izazovne slike jer će ovo biti praktičan čas na kojem ćete raditi na svojim snimcima pod Dennisovim vođstvom, tako da će tehnike o kojima se raspravlja početi da postaju deo vašeg radnog toka.
DAN DRUGI
25. Jun 2023
Tajne profesionalaca retuširanja: Odvajanje frekvencija!
_________________________________________
Nadovezujući se na temu Divide & Conkuer, ovaj čas će se fokusirati na to da ova tehnika egzotičnog naziva ima smisla i da vam pokaže kako da revolucionišete svoj tok rada retuširanja koristeći ovaj veoma moćan koncept. Kada koristimo konvencionalne radne tokove retuširanja, moramo istovremeno da radimo sa bojom, tonovima i teksturom, što mnoge zadatke čini izazovnijim. Ali odvajanjem boje/tona i teksture vaše slike na zasebne delove, mnogi od ovih izazovnih problema postaju jednostavniji i lakši za rešavanje. Izglađivanje bora na odeći, proširenje pozadine, popravljanje problematične kože, čineći proizvode savršenim, sve se to lakše postiže ovom tehnikom razdvajanja frekvencija. Mnogo se raspravljalo o ovoj tehnici, na ovom času Denis će vas voditi korak po korak kroz ovaj tok rada pomažući vam da razumete proces. On će vam pokazati kako da generišete slojeve niske i visoke frekvencije i kako da radite sa njima da bi vaše slike izgledale savršeno.
Datumi održavanja Masterclass-a su  24. – 25. Juna 2023 od 9 do 15h. 
Mesto

: Pravni Fakultet Kragujevac -  Sala čitaonice A4 ( adresa Jovana Cvijića 1, Kragujevac )
Oprema potrebna za radionicu:
Laptop računar sa instaliranim Adobe Photoshop softwerom
Rok za prijavu : 20. Jun 2023
 Cena dvodnevne radionice:

24.000, 00 din
PRIJAVE I INFO  :  fotoramafest@gmail.com